Sunday Service - May 14th at 10:30am
This Sunday join us for a time of worship. We have missionary Gwen Berquist from Church On Five sharing her stories with us. We also have a Kids Church program for children during the service. After the service, please stay behind for coffee and fellowship.
For those who are unable to attend, recorded sermons are now available on CPC's YouTube channel:

https://www.youtube.com/channel/UCydoIXNxTSEU_pD9SjMjt4w
CPC Membership Class
We are going to have a membership class on Wednesday June 7th at Church On Five (10200 No. 5 Road, Richmond) If you have been attending Cedar Park and would like to become a member, please register by email (admin@cedarparkchurch.org) or phone 604-946-7410. A signup sheet is also available in the foyer.
During the class, you will learn about our history, what the Mennonite Brethren denomination believes and what it means to be a member of the church.
Child Dedication (Sunday June 18th)
If anyone is interested in having their baby/young child dedicated, please email Chris at chris@cedarparkchurch.org
Prayer & Worship Night at Cedar Park (Friday May 26 @ 7pm)
This is a joint service for both CPC & CO5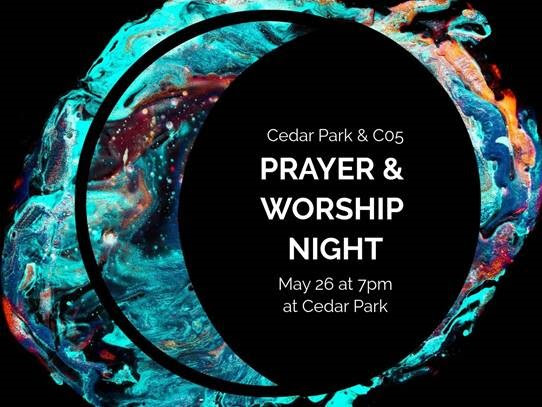 Kids Event - Field Games & BBQ
Join us at noon in the back field of CO5 for a BBQ & field game competitions for the kids! (address: 10200 No. 5 Road, Richmond)
Who: For families with children birth - grade 5 (CO5 + CPC)
When: Sunday May 28, 12:00 noon
RSVP: isabella@churchonfive.ca
Garry Point Sunday Service & Baptisms (Sunday June 25 at 10 am)
This is a combined outdoor baptism service for both CO5 & CPC at Garry Point (12011 Seventh Avenue, Richmond). If interested in being baptized, please contact the office at 604-946-7410 or email admin@cedarparkchurch.org
Prayer Practice
We are meeting in the prayer room every Wednesday evening from 7:00 - 8:00 pm. We would like to pray for each other, our church, our community, and our families. All are welcome.
Church Camping Trip (July 14-16, 2023)
All CPC families are welcome!
We will be camping at Klahanie Campground near Squamish,
you can book just Friday to Sunday, or book as long as you want. You can also choose to share a site with another family or look at the group site to save on cost.
For information and registration, email: office@churchonfive.ca
Ladies Coffee Time
All women of Cedar Park Church are invited to a weekly coffee time on Friday mornings at 10:00. We will be meeting at L'aromas Bakehouse in Tsawwassen: 1202B 56th Street - if you turn right at the first set of lights on 56th Street you will see it just ahead on the left side. We love to see you there. If you have any questions contact Karin Congo.
Sunday Coffee Ministry - (May & June sign up)
we need more volunteers
We need volunteers on our Sunday Coffee Team. Can you help? It only takes about 30 minutes to set up the coffee station, and another 30 minutes to cleanup. Signup sheet is available on Sunday in the foyer. Training is provided if you are new to this ministry. You can also call 604-946-7410 or email admin@cedarparkchurch.org to sign up. Thanks.
The Prayer Chain
The Prayer Chain is a group of people at Cedar Park linked together by email, who are committed to praying, in their own time and place, for certain persons or concerns made known to them by the prayer chain coordinator. To submit a request to the prayer chain, contact Olga Nickel. You can also email a request to prayer@cedarparkchurch.org. Emailed requests are received by Olga before being sent to the members of the Prayer Chain who keep requests confidential.
Latino Workers Support Society
Collect Clothing / Suitcases
We are still collecting clothing for the workers. Also, if you have a large suitcase with working wheels that you want to donate, please drop it off at Cedar Park Church's Latino Centre during office hours (Monday - Thursday, 9am-4pm).
Learn more about Jon and Kim's ministry and explore how to support this good work:
Facebook: www.facebook.com/LWMLadner
Webpage: www.LWMLadner.com
Email: jkpelen@gmail.com

Donations contributing to this Ministry can be made through online at the link below.
http://www.lwmladner.com/donate.html
Please select project code "Guatemala A1 (Jon & Kim Pelen)"
---
Supporting Cedar Park
We are so grateful for all who worship at Cedar Park and so sacrificially give of a portion of their financial resources to support the budget. Click on the button below to explore various ways to financially support the work of Cedar Park.